WiLL Featured Install
Fond du lac High School | cardinal stadium
Fond du Lac High School took "Friday Night Lights" to a new level with a complete WiLLsport® system - creating a showcase field.
Request a Quote
Fond du Lac, WI
Football + Soccer stadium
This Division 1 High School field and community asset features premium lighting fixtures with show-stopping light shows and effects.

WiLLsport® KBX System
Featuring world-class custom color LED light fixtures, remote power management, and infrastructure-grade steel lights poles + cross arms, Cardinal Stadium creates a premium lighting experience with simplified installation + maintenance.
RGB Color-Changing FIXTURES
Cardinal Stadium has a pop of color with RGB KBX light fixtures. From color flooding the field to seasonal light shows - game time has reached a whole new level.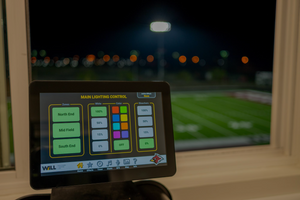 Pro-level Facility Control
WiLLcloud™ GFX CONTROLS
Dynamic light shows set to audio, lighting scenes, zones, and schedules - all at the touch of a button.
LEARN MORE
View Video